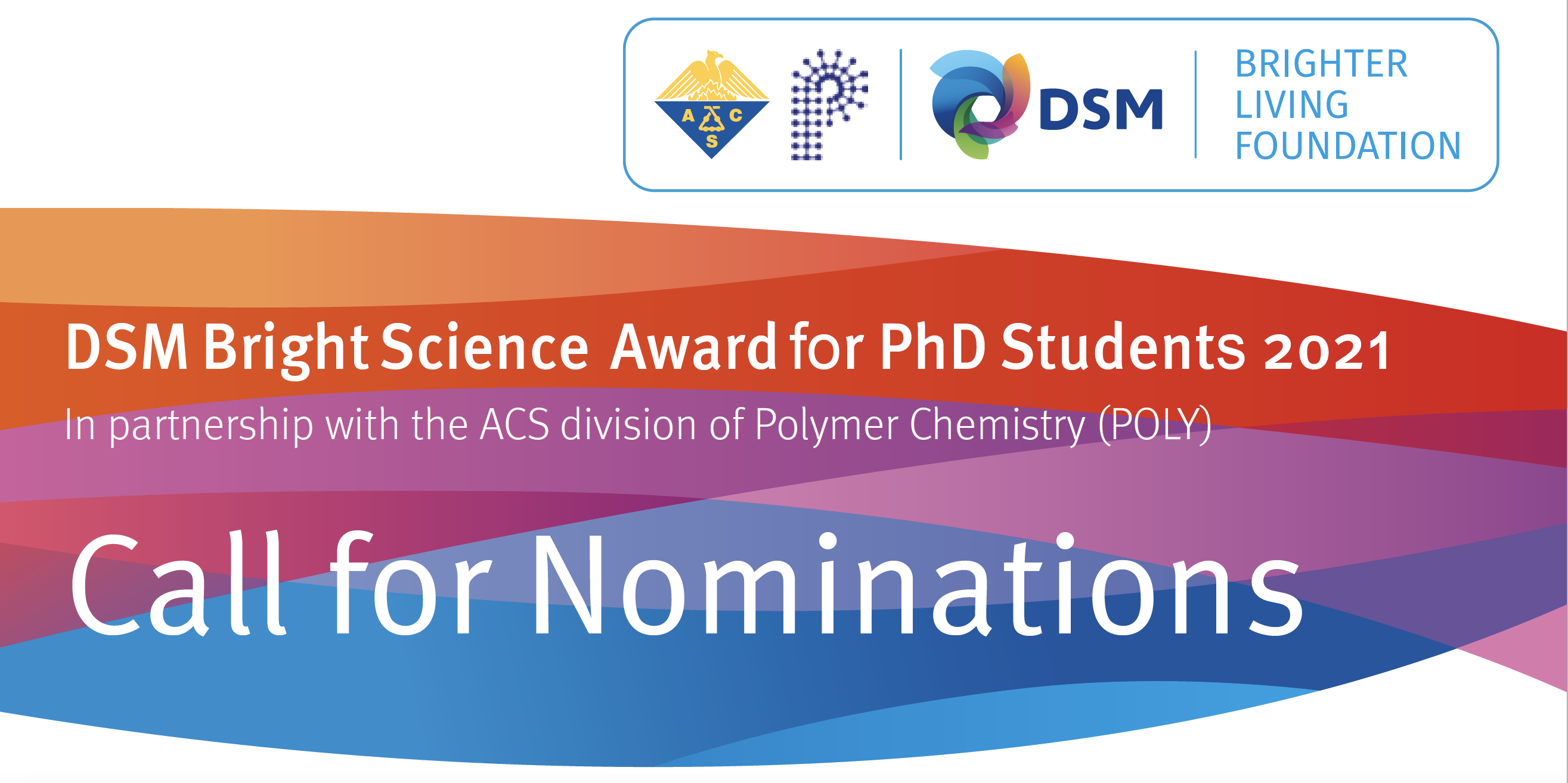 Royal DSM and the ACS division of Polymer Chemistry (POLY) invite nominations for the DSM Bright Science Award for PhD students 2021 in Material Sciences. The award carries a cash prize of $5,500. This prestigious award has been established to recognize and reward excellence in innovative PhD research related to polymer science and technology. The theme for the 2021 award will be Polymers for a Sustainable Future. The theme spans Nutrition and Health, Climate and Energy, and Resources and Circularity. Submissions may include, and preferably connect: synthesis, characterization, engineering, material property assessment and application. Nominees will be judged based on both the connection to the theme and the quality of their scientific research.
Eligibility criteria
Nominations are open to current PhD students and those who have recently obtained their PhD at a university in the Americas.
Candidates must not have defended their PhD thesis before 1 January 2020.
The nominated work must involve innovative research (fundamental or applied) in the area of Polymers for a Sustainable Future, as described above.
Selection and judging
From the total number of nominations received, four candidates will be selected for the final judging round that will take place during the American Chemical Society (ACS) national meeting, from 22-26 August 2021, in Atlanta, GA and online. These four candidates will be invited to present their research results in a short lecture during a special DSM – ACS POLY Symposium. A judging committee comprising members from DSM and ACS POLY will select and announce the winner at a special award ceremony during the ACS national meeting.
The prize
The award carries an award of $5,500. The three runners-up will each receive $1,500.
Nomination
Candidates must be nominated by their PhD supervisors (one nominee per supervisor). Nominations must be made using the nomination form that can be downloaded from the DSM website. Nominations need to be accompanied by the following documents:
A graphical abstract of the candidate's lecture topic.
A list of all accepted publications, including DOI.
Copies of key publications (max. three) in full length (not including supplementary files).
The candidate's complete curriculum vitae, including (expected) date of PhD defense.
A personal letter of recommendation prepared by the PhD supervisor.
Nomination packages must be compiled into a single PDF document and submitted by e-mail to Kathy Mitchem (kathyl@vt.edu) (Subject: DSM Award), who can also be contacted for more information regarding the award.
Closing Date: February 22, 2021
More information on DSM Bright Science Awards can be found at: www.dsm.com/awards.