IMMERSED IN: Pediatrics
PR-VR and the INOVATE-Pain Collaborative—
Using virtual reality in the treatment of pediatric chronic pain conditions
DATE: Wednesday, October 13, 2021
TIME: 11 a.m. – 12 p.m. EDT
LOCATION: Join via Zoom.
SPEAKER: Deirdre Logan, Director of Psychology Services in Pain Medicine, Department of Anesthesia, Boston Children's Hospital; Associate Professor, Harvard Medical School
Abstract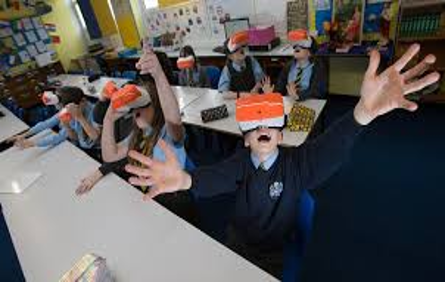 This IMMERSED seminar will address the concept of "PR-VR"—pain rehabilitation virtual reality treatments. Dr. Logan will describe the formation and activities of a collaborative group of psychologists, physicians, and allied health professionals committed to advancing pediatric chronic pain treatment through innovative digital health technology, particularly augmented and virtual reality based interventions. She will describe her current work in progress to develop and test a VR-based simulation to help children with chronic pain function in school.
About DEIRDRE LOGAN
Deirdre Logan, Ph.D. ABPP, is the director of psychology services in the Division of Pain Medicine, Department of Anesthesiology, Critical Care & Pain Medicine at Boston Children's Hospital (BCH) and an associate professor of psychology, Department of Psychiatry, Harvard Medical School. Dr. Logan received her PhD in Clinical Psychology at the University of Michigan and completed postdoctoral training at The Children's Hospital of Philadelphia, where she subsequently served on the faculty in the Department of Anesthesia.
Dr. Logan's research focuses on psychological aspects of pediatric chronic pain, with emphasis on the roles of school and family systems in the child's pain experience. An additional area of focus is on implementation and evaluation of care innovations in intensive interdisciplinary pediatric pain rehabilitation. Currently Dr. Logan is working on ways to use digital health technology, particularly augmented and virtual reality interventions, to advance the treatment of pediatric chronic pain conditions. Outside of the workday, Deirdre, along with her husband Professor Adam Berinsky, is a head of Ashdown House graduate residence at MIT.
about immersed
IMMERSED is a monthly seminar in which we explore the possibilities enabled by immersive technology and interactive experiences. Technologies such as motion capture, virtual and augmented reality, photogrammetry, and related computational advances bestow the power to gather, process, and interact with data from multiple modalities, providing unique insights and fostering interdisciplinary collaborations.
IMMERSED examines how immersive technology is shaping innovations across the sciences and the arts through a mix of lectures, demonstrations, and tutorials. IMMERSED is sponsored by the MIT.nano Immersion Lab, which provides space, tools, and a platform to connect scientists, engineers, artists, performers, and others through creative projects that bridge multiple disciplines.
To receive event announcements, sign up for our email list.