Happy Nano Day 2022!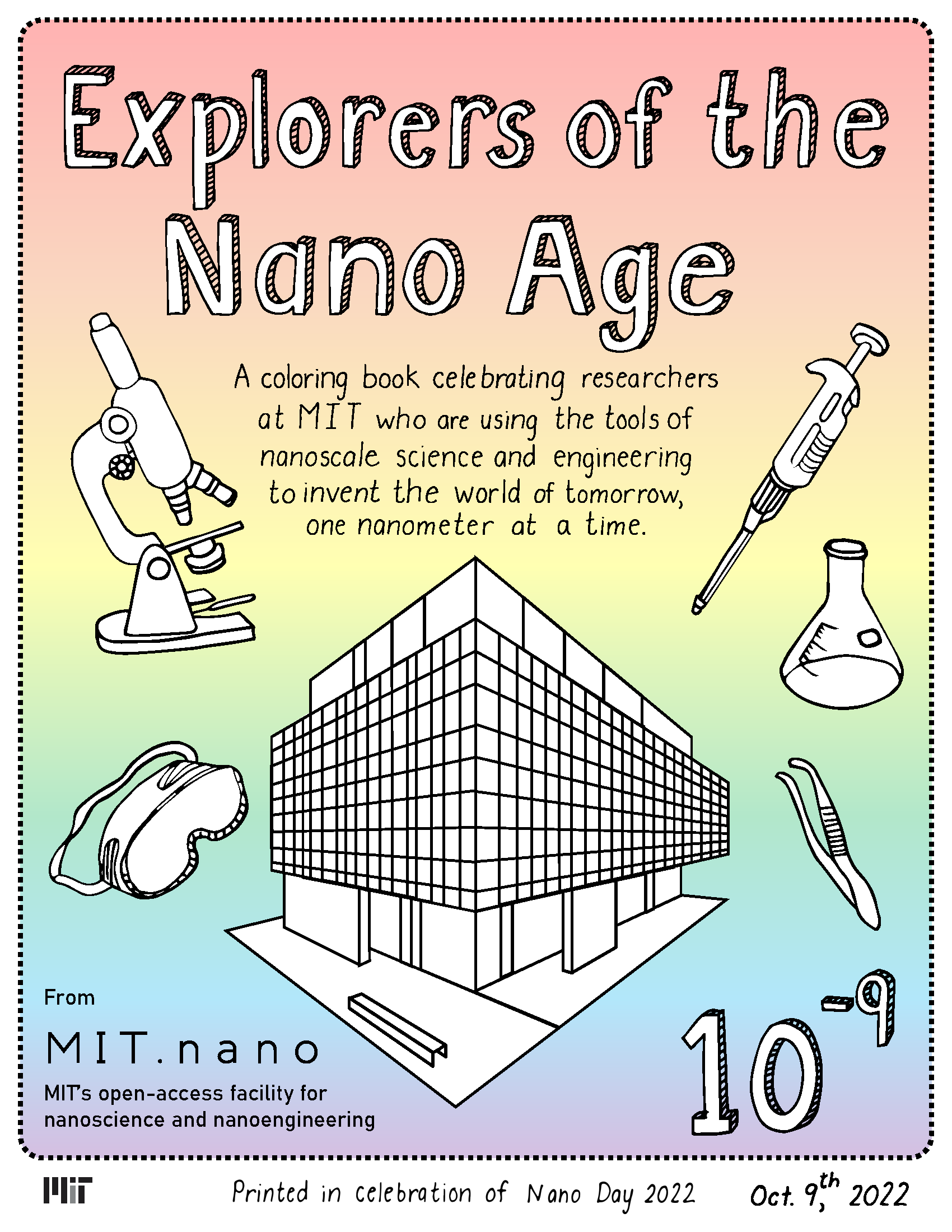 October 9 is National Nanotechnology Day—the day that celebrates the potency of the world at the scale of one nanometer, 10-9 or one billionth of a meter.
Every year, we celebrate 10/9 to shine a light on the potential of nanoscale discoveries and innovations to help solve some of the biggest challenges facing society today. For Nano Day 2022, MIT.nano has produced a coloring book, Explorers of the Nano Age.
The coloring book highlights MIT scientists and engineers working to make our world a better place, starting at the nanoscale. These pioneers are exploring solutions to challenges in health, climate, and energy; and discovering new possibilities in computing, communications, materials, manufacturing, and more—all through the power of nanotechnology.
We hope the book offers you education and inspiration. Happy coloring—and Happy Nano Day!
Learn about the featured MIT professors
We're grateful for the participation of the MIT professors featured in Explorers of the Nano Age. To learn more about them and their research, visit their laboratory pages below:
Ariel Furst
Cook Career Development Assistant Professor
Chemical Engineering
Aristide Gumyusenge
Merton C. Flemings Assistant Professor
Materials Science & Engineering
Long Ju
Assistant Professor
Physics
Benedetto Marelli
Paul M Cook Career Development Associate Professor
Civil & Environmental Engineering
Admir Masic
Associate Professor
Civil & Environmental Engineering
Farnaz Niroui
Emmanuel E. Landsman Career Development Assistant Professor
Electrical Engineering & Computer Science
Carlos Portela
d'Arbeloff Career Development Professor
Mechanical Engineering
Deblina Sarkar
AT&T Career Development Assistant Professor
MIT Media Lab
See past Nano Day offerings